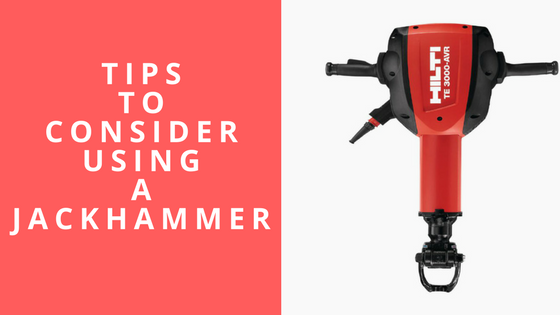 A jackhammer can be the toughest tool to handle but not when you are aware of its use. It is a tool used in the destruction of very old concrete, pavements, old roads and others. Jackhammers are frequently used by counteraction companies in Albury Wodonga that are available to hire or rent. Handling them can be tricky sometimes.
History has proved that digging a hole on a rough surface has taken years of hard work. By the
invention of William Mcreavy
, digging holes is now can be performed in a day. Can you imagine?
Here I am listing some of the tips to use this gigantic tool efficiently:
Be Mentally Prepared: A Jack Hammer is a gigantic machine to deal with. It is not a toy that you play. It's a serious job undertaken by you. Be mentally prepared. Focus on what you are going to do. The tool is about 70 to 80 pounds heavy and requires strength to move around. You have to be mentally and physically strong to use it effectively.
Stick to the Rules: I strongly recommend you to read the manual of jackhammers. Certain construction sites have their own safety rules. Sticking to these safety rules and not pushing these rules any further can avoid deadly calamity. Inspection of a jackhammer and its periphery regularly for damage can be handy. All safety precautions must not be neglected to work efficiently.
Refreshments or Rotations: Take a chill pill when needed. This huge and powerful tool needs manual power to control. Eating something or tea or coffee break makes the mind refreshed and more focused. Refreshment or break is necessary to avoid manual fatigue of the operator. Rotation of operators is another option to reduce the muscular fatigue. Changing operators frequently in a fixed interval of time allows the digging or demolition to run smoothly.
Selection of Right Bit: Using appropriate bit for different materials is highly recommended by manufacturers. The tip having broad shape distributes the load on a concrete slab (Pressure is inversely proportional to area) whereas the pointed tip is for concentrated pressure at appointing. Pointes bits are suitable for digging through Rock whereas Spade is for asphalt.
Using jackhammer efficiently is good but using it safely is also important. Here I am suggesting some of the tips to use this tool safely:
Spray Water: Spraying water before the start of job can reduce the dust in the air. Minimize dust flow increases visibility and let the operator work effortlessly and efficiently.
Safety Gears: Personal Protective Equipment such as gloves, boots, glasses, ear guards, Long Pants etc. is essential for the safety of jack operators.
Use Features: Jackhammer tool comes with additional safety features. The locking mechanism of the drill bit, Emergency Switch, trigger control and automatic release are some of its additional features. These additional features ensure safety.
Limit the bit: Limit the use of bit up to the cutting edge. Beyond the cutting edge, the risk of bit-breaking or bit-stuck in the slab can occur.