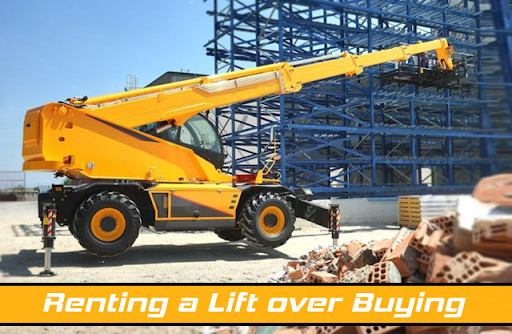 Lift equipment, also known as lifting gear is a work tool that is used to lift and lower loads in the construction industry. These type of work equipments are created to suit every conceivable purpose.
In today's world renting a lift has become an important equipment in every industry for those individuals whose workload depends from one place to another. These lift equipments are used for large construction, by builders and handymen.
For instance,
equipment hire in Albury
, Wodonga is a better option for an individual as it results in an overall increase in your work productivity and sales. As these equipments are hired and not purchased you don't have to spend time on repair and maintenance work.
There are numerous types of lifts that can be rented out for either short term or long-term period that can be made available - daily, weekly, monthly, etc. There are many different types of lifting equipment such as: Motor vehicle lifts overhead cranes and cranes fitted to vehicles Vehicle tail lifts Goods and passenger lifts Lifting accessories Telehandlers and forklifts
Knuckle boom lift rental in Albury, Wodonga lets you rent the equipment according to your construction needs. Knuckle boom lift equipment lets you access areas that are hard to reach. These equipments are engineered to enhance your working efficiency and productivity.
There is a wide range of
rental plant equipment in Albury
, Wodonga that can be used to complete a specific work within a given period of time. These rental plants provide people to choose from a wide range of heavy work machinery which will further enable them to use a different kind of equipment that is suitable for their work operations. these lifts will let you perform various work such as: Painting Rooftop cleaning and window cleaning Construction work Engineering work And many more.
Here are 6 important benefits of renting a lifting equipment over buying:
1. It is cost effective. The main advantage of renting a work equipment is that it is much more economical for the company over purchasing a heavy-duty work equipment. The more the equipment is utilised the greater is their efficiency which results in less wastage.
2. There is a wide array of options that are made available to every company which can help them to make the correct choice according to their work requirement. This helps people to find a better option making it more flexible and less cost carrying.
3. Renting equipment reduces overall maintenance cost for the company. In case the equipment breakdowns or stops working, the insurance that is offered by the rental company covers it entirely. This means that the machines can be repaired without shelling out extra money from the company's pocket.
4. A company does not have to put in a huge amount of capital to purchase the equipment as they are only renting it out. This further saves their money and it can be invested in other areas that can lead to an increase in their overall productivity.
5. Depreciation is eliminated as the equipment are only rented out by the company and not purchased. Storage costs are also reduced as the company does not have to store the equipment which result in saving of expenses as well.
6. The rental market is highly competitive due to the rapid changes in technology. This further provokes the rental companies to keep their machinery up-to-date so that their work equipment is effective and efficient at the same time.
With all the advantages mentioned above, every individual can now take the right decision of renting out the heavy-duty work equipment rather than purchasing it. Taking the right decision can further help people to work more efficiently and without any hassle making it beneficial for the company as they do not have to use a single machine for various works.
Renting an equipment always proves to be a viable solution for any company who is not in a position to make a cash investment or who would like to save their expenses and channel it productively. Renting an equipment can be obtained faster than purchasing a new equipment and their delivery and installation can be done considerably quicker as well.