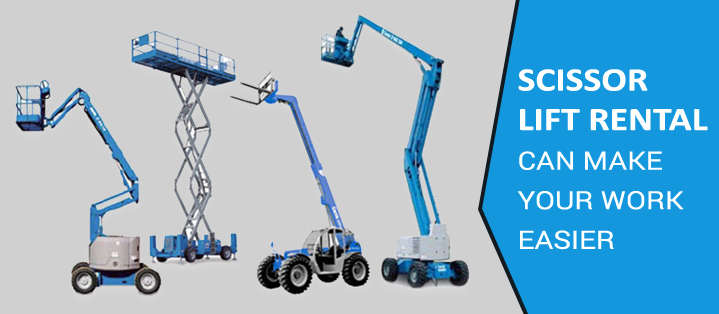 Each job has certain challenges which the workers have to overcome to ensure smooth workflow. There are many professions in the industry which requires its workers to be raised above the ground level, be it from cleaning windows and rooftops of office and buildings to lifting load units in a warehouse. To make the job easier for the workers, scissor lift equipment provides workers with the means to achieve the completion of the required task. These lifts can pass through doorways and narrow aisle ways and manoeuvre objects within the warehouse, making the workload easier to carry.
What is a scissor lift?
It is an electric or gas-powered tool that is used to raise or lower unit loads. Their main objective is to access those areas that are difficult to reach and carry out the required work. Scissor lift equipment provides a mean of reaching areas that are not easily accessible and are at a higher level.
It is much better to rent a scissor lift equipment rather than buying the equipment to get your aerial work done in an easier and hassle-free way.
Scissor lift hire in Albury Wodonga
provides you with a simple solution of making your heavy lifting work easier. There is a wide array of scissor lift equipment that is available on a rental basis which can be hired anywhere and at any time.
Still not sure if renting out the equipment is easier? Here are some reasons which will help you consider rental:
Easy accessibility to various scissor lift models:
Scissor lift equipment gives you access to what you require and when you need it. With the availability of more than one type of scissor lift, you can choose from the different models depending upon the type of work that you need to carry out. These wide ranges of scissor lift equipment vary in sizes, height, platform widths and fuel capacity. Depending on your work requirement you can rent out the model that you would require for the project at hand.
Easy return of the equipment:
Another major benefit of renting out the equipment is that you can return the scissor lift once your work is completed. This means that you don't have to find a storage space to store the lift at your facility. Equipment storage can be a real problem as these lifts are not small in size. Therefore, renting out the lift when you no longer require it is a huge relief.
It is cost-effective:
scissor lift rental fees are a business expense that is appreciated for use. Weekly/monthly rental is comparatively lower when compared to the purchasing of the equipment which can easily burn a large amount of capital thereby increasing the business expense to a higher side. Therefore, it is better to rent out the equipment as their value will not be left to depreciate once the required work is done.
Latest and up-to-date machinery:
Every industry has to go through advancements in technology. Renting a scissor lift can ensure that your facility will receive the latest and up-to-date equipment and the workers are able to access this equipment which will allow them to complete their required work more effectively and efficiently.
No more maintenance and repair expenses:
while renting out a scissor lift equipment it is always mentioned in the rental agreement that the maintenance and repair expenses will be covered by the rental company. This is mentioned in the agreement so that there are no surprise charges in the bill. Therefore, it not only saves the company from the extra cost, but you will also be provided with a replacement if the equipment breaks down so that your work does not get affected.
As you can see these above advantages proves that renting a scissor lift is the perfect choice when you require a huge working space and lifting capacity without having to compromise manoeuvrability. Also, assess the load units that need to be lowered or raised and the surface the lift will be moving on. Once these points are clear then you just have to make sure that you decide on a reputable rental company that will help you to meet your needs and requirements.