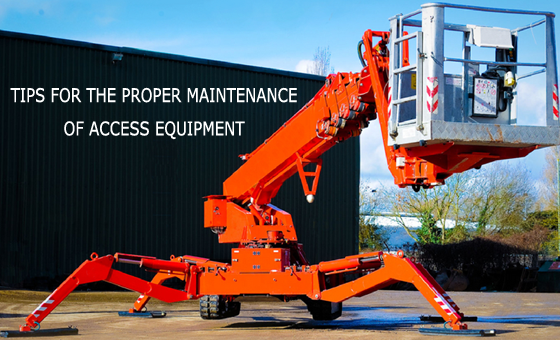 Preventive maintenance preserves the value of the equipment. Keeping equipments in good working order extends equipment life and keeps them safe. It also ensures the good working condition. The proper maintenance is important and early detection of problems allows repairs to be made before the situation worsens. Equipments that do not need to be taken for extensive repairs will avoid work interruptions. Regular inspections and analysis can be used to predict and prevent component failures that may create safety hazards and breakdowns.

In some places equipments can also be hired from access equipment hire Albury Wodonga if you don't want to invest in all the access equipments at home or office, as the installation charges are quite higher. Such equipments consist of higher investment and hence need proper maintenance.
Here are few tips on how you can take proper care and maintain your access equipments.
Proper Storage and Labeling
Store your access equipments properly. Most equipment is made of iron and steel which are tending to get rust when not taken proper care. Make sure you don't keep them under the dust; it may cause damages and also may cause rust soon. Also you can store them in proper boxes which can be labeled with names in it. Labeling them will help finding the equipments easily. It will also save time and effort. Not storing them properly can be havoc when in need.
Keep them Clean
Clean equipment is the best. Before using the equipments make sure to clean them properly to ensure everything is in good working condition. This will prevent the equipment breakdown while working. Also after using the equipments make sure to clean them before storing in the right place. Cleaning the equipment before and after use will ensure the equipment's longevity.
Obtain Maintenance Schedule from the Manufacturers
When you buy the access equipments, collect the maintenance schedule or remark the servicing due dates so that they can be maintained time to time. Every equipment needs proper maintenance after certain period of time or use. Failing to do so will let the equipment breakdown or cause damage early. Lower maintenance cost is way lower than Excessive installation charges/ investments. Make sure to do timely servicing of your access equipments.
Appoint Persons to do Regular Maintenance
Appoint someone to take proper care of the access equipments so that the equipments are not neglected. Negligence in regular maintenance will cause damage or early breakdown. Regular maintenance will increase longevity and smooth working of the equipments. Appointing a person for doing so will be responsible. that person will definitely won't over look the problems happening and give proper attention in maintenance.
Use Best Quality Lubricants
There are a wide variety of lubricants available in the market. It comes from lower to higher prices. Even low quality lubricants are available at cheaper cost. Lubricants are like the lifeline for equipments. Lubricants ensure smooth working and better performance of the equipments. Hence use best quality lubricants will help getting better performance whereas lower quality lubricants on the other hand may cause to breakdown of the access equipments. Investment in good quality equipment is a smart decision regarding the maintenance of your access equipment.
Ensure Proper Handling
Equipments also need proper handling. Failing to do so will incur extra cost in repairing and also consume time. This may also lead in loss of working hours. Read the user manual before using the equipments. Make sure to perform the above-mentioned points to ensure longevity of your access equipments. Well maintained equipments will save cost and give you effortless work.