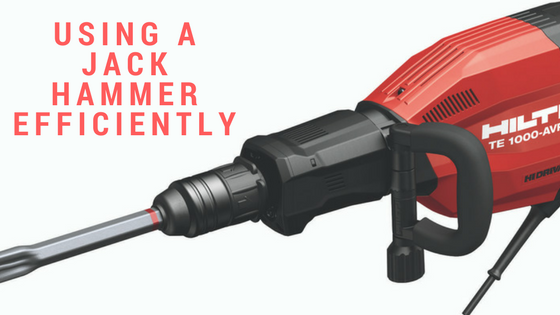 Jack hammers are primarily used for breaking concrete, asphalt, rock, or other such hard materials. Most of the time, they are used in construction and mining operations. This machine has two major parts, one is the chisel, which is used to cut the concrete and the other one is the supporting handle, which is used to hold the machine firmly.
Jack hammers can be divided into different categories depending on their functioning mechanism. One form of jack hammer is called pneumatic drill and it is powered by air while the other form of jack hammer is powered by liquid and it is called hydraulic jack hammer.
Since the applicability of this machine is very high, it is quite probable that you might one day, or another find some use of it. Jack hammer hire in Albury Wodonga is quite easy, but the difficult part is operating the machine in a safe manner.
After
jack hammer hire in Albury Wodonga
, the first thing you must procure is personal protective equipment (PPE). Some of the common PPE are safety glasses, tough boots, ear muffs, gloves, and long pants. By wearing the protective clothing, you will be protected from sharp objects flying towards you.
Before utilizing the jack hammer, you must become completely acquainted with its operating mechanism. While learning the mechanism, special attention must be given to the operation of supply compressor.
The jack hammer is a tremendously heavy equipment. If you are not used to tough muscle work, you must not try it. However, if you are confident of your abilities and/or have already experience of working on it then you must take the precaution of checking all the parts before starting it. This step is important since a loose or a broken jack hammer might completely go out of hand even in the presence of an experienced operator.
While operating the machine, make sure to keep the electric cord on your shoulder. This will prevent the wire from any accidental damage, which in turn will keep you protected from getting electrocuted. To make the work go efficient and safe, always select the appropriate point. For instance, for concrete always use chisel point and for asphalt use spade point.