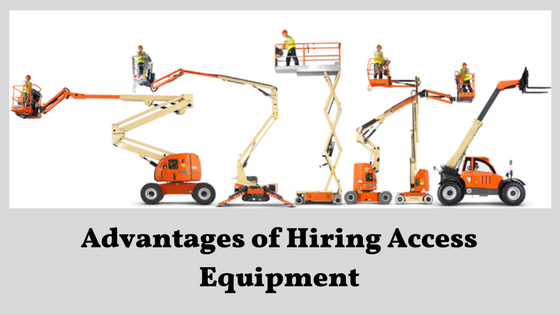 This article will give you all the information and details you need to know about access equipment and about hiring access equipment.

At first we need to know what access equipment is.

Access equipment is also known as an aerial work platform which a mechanical device is being used to access inaccessible areas, mainly at heights. There are many different types of access equipment, also known as a "cherry picker" or "scissor lift". They are mainly used for purposes like maintenance or construction work and can also be seen being used by firefighters in case of emergencies. They can lift limited weights, usually less than a ton. Access equipment are operated by a single person.

Apart from all these, access equipment also provides features like being able to get equipped with electrical outlets or compressed air connectors for power tools.

There are different types of access equipment and they all have different features and are used for different purposes.

Aerial Device: Aerial devices look almost like a crane and they consist of a number of jointed sections which can be controlled to extend the lift in different directions. This type of access equipment is known as a "cherry picker". They are used mainly for maintenance and all types of constructions. This is used by firefighters worldwide.

Scissor Lift: This type of access equipment can only move vertically. It uses the mechanism of linked, folding supports in a criss-cross "X" pattern which is known as a Pantograph. The platform might also have an extending "bridge" to allow a closer access to the work area. The "scissor lift" was first patented by Charles Larson of USA in 1963.

Hotel Lift: These lifts are mostly used for internal maintenance tasks like changing bulbs as it has limited capability in terms of holding weight and extension. These type of access equipment are small in size.
Now as we know all about access equipment let's talk about the advantages of hiring access equipment.

The prices of access equipment are very high. It is not possible for everyone to buy access equipment due to its price. So it is easier and reasonable to hire access equipment rather than buying it. Even for business enterprises it is best if they hire access equipment than buying it because renting access equipment helps an organization to stay ahead in the field of technology and they can also take advantage of the more efficient and better models of access equipment.

Buying access equipment and keeping it will make it outdated eventually whereas hiring will give you the benefit of using the latest equipment.

There is no need to think about maintaining or repairing the access equipment if you hire them. Whereas, buying access equipment will make you run into these problems.

In Albury Wodonga you will get many companies which will give you the best and the latest access equipment you need for hire. You need to choose the best company to hire from in order to have the latest access equipment.

I hope this article was helpful for you all. If you want us to add something more to this article, please let us know!